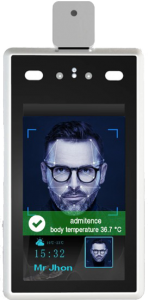 AI panels with body temperature reading and PPE detection
VHD-THM-070 is all-in-one AI-based face recognition panels with body temperature reading and protection mask detection functions. VHD-THM-070 reads the body temperature at the forehead.
Even if the subject wears a protection mask, both panels provide high face acquisition and recognition performances and instantaneous temperature reading by using the latest infrared thermal imaging
technologies and deep learning algorithms. A wide gamut of physical interfaces (Wiegand, audio, alarms, LAN…) makes it possible to promptly alert the personnel appointed to manage feverish people and people without protection masks while also interaction with different systems such a access control.
VHD-THM-070 let business meet all law provisions related to the safeguard of workers' health against coronavirus
contamination and grants the salubrity of the workplace.
Thermographic cameras to measure body temperature
VigiHD presents new thermographic cameras for body temperature measurement. The cameras are capable of analyzing human body temperature with great precision and can therefore detect cases of fever instantly. These solutions are currently being installed extensively in crowded places (supermarkets, hotels, transports) as a measure of containment of COVID-19.

These cameras have a very advanced and powerful algorithm for high precision temperature measurement. It also incorporates artificial intelligence based on face detection. This helps to filter out any type of false alarm generated by other heat emitters (cigarettes, coffee, light bulbs, etc).

VHD-THM panels measure the
body temperature of the filmed subject (reading the forehead orthe wrist), identifying the presence of fever.

The panels detect the presence of protection masks on the faces offilmed subjects

The panels recognize faces even
if the subject wears a protection
mask.
   Depending on the result of these three analyses, the VHD-THM-070 panel can control the opening of a door or send alerts.
Fast analysis and access control
VHD-THM-070 allow to
identify if a subject does
not comply with safety
measures and blocks
their access, minimizing
the contamination risk.
Contrary to fingerprint reading, face recognition does not force the potentially infected subject to touch the access control terminal, thus further reducing the contamination risk.
Easy and quick installation
PROIPF are compatible with several different brackets that can be used in different contexts: company access gates, factory access turnstiles, man trap security doors for banks, shop entrances…
Deployment and commissioning use an easy-to-use web interface. The EPM Enterprise software enable an advanced management that includes the deployment of several panels in different locations.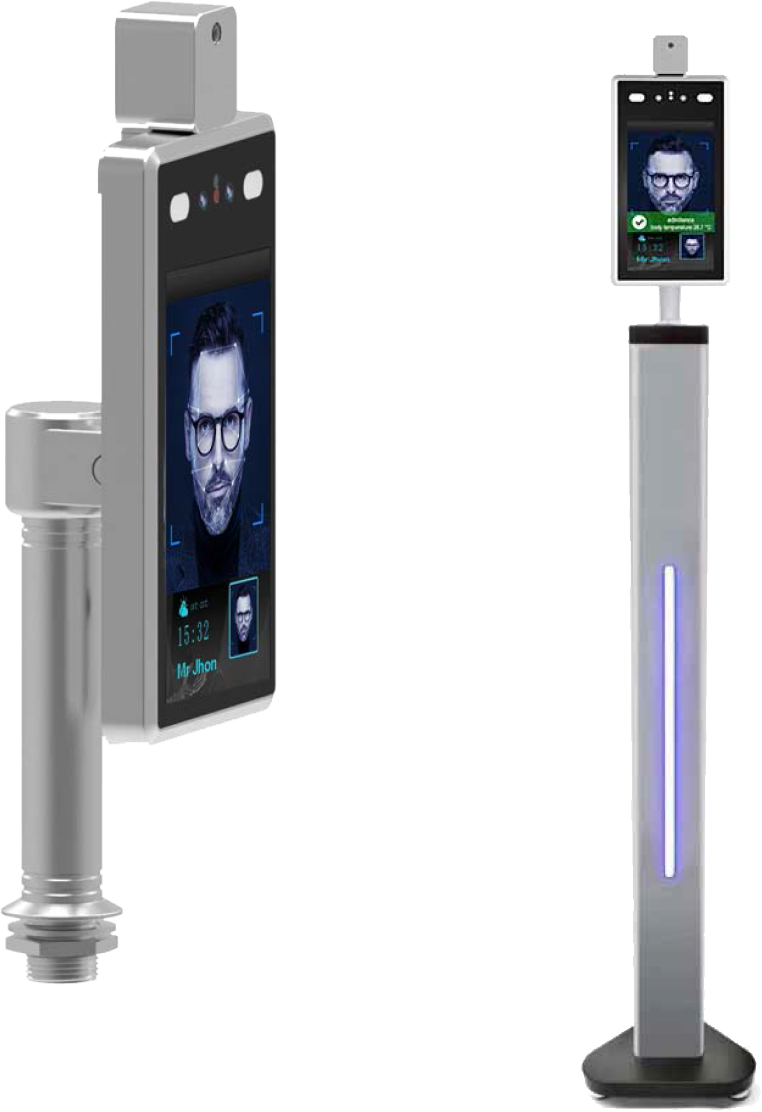 PROIPF panels fulfil several functions optimally, each on
its own or in coordination:
– Filter to identify feverish subjects
– Filter to identify maskless subjects
– Recognition of faces stored in a database
– Face database creation
– Access control to enable access to specific sensible
areas to authorized personnel only, using face
recognition or an external reader (with RF 125 kHz,
Mifare, BLE or other badges).

Why so many functions?

PROIPF panels have been designed to adapt to the
evolving health situation of a Country.
Should the mask cease to be mandatory, the system
can still be used to measure the body temperature
and to perform access control functions.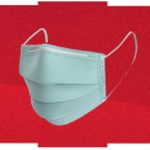 The new VHD facial recognition devices are capable of detecting fever and stop people with a high temperature from passing. It is furthermore possible to configure that the use the masks is mandatory and restrict the access if you're not wearing a mask.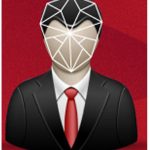 MORE ADVANCED AND SECURE FACIAL RECOGNITION
VHD facial recognition is one of the most effective in the market and is capable of recognizing faces from a distance of up to 2 meters in less then 0.5 seconds. It can furthermore detect intended fraud if a picture is put in front of the reader instead of an actual face.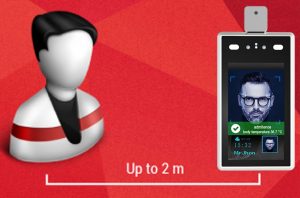 THERMO-IMAGING TECHNOLOGY
VHD latest technology is based on Thermal imaging, which allows you to take the temperature of a person at a distance of between 0,3m – 2 m in one second, and thereby forgetting the old thermpile thechnology used by other manufacturers whitch is less accurate and has to be much closer.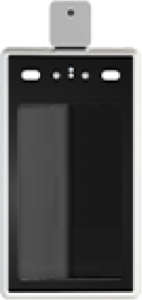 Panel : 7", 1280×800 resolution, 500:1 contrast
Temperature measuring : Forehead reading, 0 ÷ 50H°C
Accuracy : ±0.5 ± 0.3°C
Temp. measuring distance : 0.4 ÷ 0.5 m
Face recognition lens : 2 Mpx dual-lens, f=3.97mm @ F1.6
Face recognition accuracy : 99.7 %
Face recognition distance : 0.3 m ÷ 2 m
Recognition speed : ≤ 0.5 s per subject
Recognition capability : 22.400 faces and 100000 records
Recognition mode : 1 : N
Recognition height : 1.2 ÷ 2.2 m (recommended installation height 1.45 m)
WDR : 80 dB
Storage : 8Gb DDR3 +16GB EMMC
Light : Soft white light + IR light
White light range : 1 ÷ 3m
Interfaces : 1 Microphone + 1 speaker, 1 LAN 10/100 Mbps,
2 alarm inputs + 2 alarm outputs,
1 Wiegand input / output, 1 RS-485 interface, 1
door release output
SDK and API : Available for third-party-system integration
SD card slot : 1 slot for micro SD card, up to 128 Gb
Protection class : IP66
Power source and power
consumption : 12HV @ 3HA, max 20HW
Dimensions and weight : W 154 x H 271 x D 32 mm, 1.2 kg
Parts supplied : Wall flange included